A Comprehensive Budgeting Guide for Amazon Advertising
Answering the demands of the rapidly increasing number of Amazon sellers advertising on the platform is Amazon's newly-released tools and features, most importantly, the Budgets Tab. This budgeting feature can allow sellers to manage their budgets more efficiently and help them avoid overspending on campaigns that may not convert. Sellers are also protected from making expensive advertising cost mistakes throughout their campaigns by the Ad Spend feature. 
The increase in advertising also brings out the competitiveness within sellers, making them question what the next big step is when it comes to marketing and positioning their products better than their competitors. Relieving Amazon sellers of that anxiety is the Budgets Tab that not only helps them see the relationship between sales and financial performance but allows for easy customization and seeing things in better detail as well. 
Budgets Tab
Currently in beta, the Budgets Tab has become a vital tool in succeeding in Amazon Advertising. With the new feature in place, the competition between sellers and brands who have been contending with each other will only become stronger as they all seek a better way to see insights, strategies to maximize their campaigns and to educate themselves on how their ads are working. While it's easy to open for any seller or brand who has access to this Budget Tab, not everyone would know how they work nor how to take advantage of them. What they don't know is that the more they leave their ads with mismanaged budgets, the more their sales become stunted. 
Amazon sellers are predicted to spend even more on PPC ads from here onward, so it makes perfect sense for Amazon to bring out the Budgets Tab feature this year. But what makes this new tab different from the other budgeting features inside Amazon's selling platform?
Average in-time budget column, Impression, Clicks, and Sales Estimation
With the new Budget Tab, reports for average in-time budget, impressions, clicks, sales estimation, and current budget are shown. With this information, sellers are provided with ideas on how to budget their ad spend by knowing which campaigns have performed well, urging sellers to keep the budget steady. This report also gives a better understanding of which campaigns should get more attention budget-wise, adding more spotlight on winning products that guarantee quick sales. However, many sellers may notice that this report won't be visible to everyone at the moment.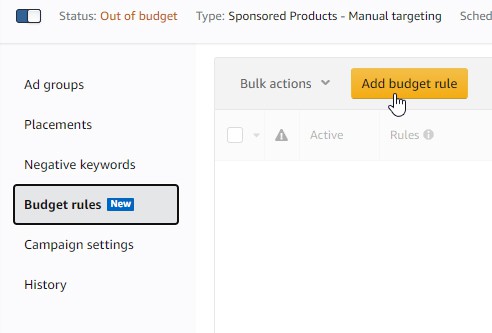 With the added budget rules feature, sellers will be able to progressively increase their daily budgets on specific campaigns without needing to manually adjust them. Sellers are also given the opportunity to make sure that their Sponsored Products campaigns have stable budgets especially during special seasons like major sale events (e.g. Prime Day, Cyber Monday Deals, and Black Friday Deals) and holidays. The rules also help with schedules, making it easy to set budgets ahead of time and within specific date ranges for specific events selected.
Setting budget rules isn't limited to one time per campaign. Sellers are allowed to set more than one rule based on the conditions they've set. The budget rule will be applied to the campaign set with the most budget increase, making your sales event campaign product highly likely to receive more of the budget. 
Not only that, but Amazon will also provide recommendations for events based on campaign products that they anticipate will have higher demands for specific sale events. If the seller decides to make changes in their campaigns where the products are included, the rule still sticks, however, Amazon will change their recommendations.

Daily Sponsored Products Budget Cap
The Budgets Tab also helps with controlling the daily budgets for a seller's Sponsored Product campaigns. An added feature that makes it even more informative is the few columns for Last Year data. While some sellers may not have specific campaigns for Sponsored Products, they can leave this one out and set a separate budget for each campaign instead. 
This can be accessed by going to the Campaign Manager and tweaking it in the Advertising Settings tab. 

To help with knowing when budgets have been reached to a maximum, Amazon sends sellers an email notification. This helps sellers identify which campaigns need to be paused, reviewed, resumed, and resumed but with an increased budget. But for campaigns with a set daily budget, sellers can access the notification via the Campaign Manager dashboard. The seller can also increase their daily budgets on the Campaign Manager dashboard, however, the budget will reset the next day instead of in real-time after having set them. 
There is a difference between the notifications that will be displayed in the Campaign Manager dashboard and the email Amazon will send. The information may be mismatched, being that the campaign notifications will always appear in the Campaigns dashboard while the budget notification will appear via email as it is categorized as an account alert.

Daily Budgets for Campaign Levels
Campaign Levels also benefit from the Budgets Tab. Their daily budgets can be averaged over the course of a whole calendar month and can be spent up to 10% more than the average during days when high traffic is expected. Sellers won't spend more than the daily budgets they've set and if any over-delivery happens, the invoices will have some adjustments in order to avoid charges should their ad spend go over their monthly charging limit. Similarly, Amazon will notify sellers of daily budget updates.
Budget Caps for Portfolio Levels
With all the other budgeting features having an extra boost in insights, the Amazon Portfolio levels are no stranger to its benefits as well. Helping sellers manage their Ad Spend in both the Sponsored Brand and Sponsored Products ads, the Amazon Portfolio allows sellers to customize and group different campaigns. It would be a pain to individually manage the Ad Spend of multiple campaigns, so having them in customizable portfolios is the best way to resolve any ad budget issues. A newly-added feature is the ability to control Portfolio level budget caps which currently aren't available for Sponsored Display ads.
Another benefit to having the Amazon Portfolio is that it collects historical data, allowing users to see the trend of their ad budget spending over the course of time for individual campaigns. This will allow them to keep track of budgets and realize whether they are overspending on a campaign that doesn't quite convert or if they need to increase their budgets on campaigns for winning products. The Amazon Portfolio will greatly benefit sellers when creating new portfolios as well since it shows them what to expect when it comes to purchase history, impressions, and ad spend. 
Sellers need to take advantage of Amazon's Smart Portfolio budgets as it lets Amazon's AI determine and calculate budget distribution, enabling them to make better decisions when it comes to ad spending.
Budgeting Rules Per Campaign
The budgets that Amazon sellers indicate for each of their campaigns help determine the success of the ads, making it imperative for Amazons sellers to work on managing their campaign budgets better. Among the many benefits of this new feature that helps budget Ad Spend is having the capability to assign a cap for campaign budgets, helping sellers avoid exorbitant costs for advertising. 
The budgeting rules per campaign feature also allow sellers to specify budgets for campaigns depending on their schedule or performance metrics (ACoS, CTR, or CVR) in advance. This eliminates the need to manually adjust budgets on specific dates or performance goals. These specific dates include sale events such as Cyber Monday, Halloween, Black Friday, and many other holidays. Budgets may also be modified for days where your Amazon store is holding a special promo, you have coupons running, or on specific days where your store experiences stronger demand. When your Ad Spend is budgeted in this fashion, you're able to showcase your higher-performing ads, bringing more sales in the process. 
This feature was available on third-party software in the past but is now built-in on Amazon. Currently, it's only available for Sponsored Products.
25% increase message
Another change to Amazon's Advertising Console is the new pop-up message that displays, "Changes to daily budgeting policy for Sponsored Ads. You can now spend up to 25% more than the average daily budget on any given day. This can help you benefit from high traffic days. These days are balanced by days when your spend is below your daily budget. The daily budget amount is averaged over the course of the month." 
While this new feature is considered a policy change, it doesn't stray too far from the way it has been used previously. 
Lifetime Budgets for Sponsored Brands
The Lifetime Budgets for Sponsored Brand campaigns will also be controlled via the Budgets Tab. Given that the minimum budget sellers are allowed to set is $100, the ads will keep running with that amount until it reaches the amount set for the Lifetime Budget. Unlike the other types of campaign budgets, the Lifetime Budget will have varying percentages of ad spend based on the number of shoppers active in the platform. Most of the time, the budgets will be spent quickly especially if it's of a lower amount. It's not a surprise that some Lifetime Budgets can be spent as quickly as a few minutes if the amount of interest in a specific product is increased.
What will happen next?
With the new set of features Amazon just rolled out, it's not a surprise that there will be more additional features coming up. Here are our predictions of what's coming next:
Portfolio Daily Budget Feature

Hour of Day Spend Information

Out of budget campaigns notification

Integration of the new features to Sponsored Brands and Sponsored Display

Integration of the new features to the Ad API
BONUS CONTENT
AMZ Pathfinder's Founder, Brent Zahradnik, shares a few insights on Amazon Advertising…
How do you set a budget for Advertising Spend on Amazon?
One way of setting your Advertising Spend budget on Amazon is by conceptualizing it and setting your budgets from the top down. But when it comes to optimizing your budget, you have to budget it the opposite way and start from the bottom up instead. To start off, you can begin by assessing your quarterly or monthly business objectives to help you determine the right budget for advertising. After figuring out the best advertising budget, you will then be able to allocate that budget for the product, portfolio, and campaign level.
Your spend allocation will need optimization, so when you've begun to do that, you have to start at the target keyword level since the CPC bids will be dictating your spend. Amazon's automated bids feature will still spend more than 25% of the daily budget you've allocated. While the daily budget may increase, the monthly objective remains the same which is to reach the average of that budget per day.
What methods or tactics do you use to successfully hit that budget?
 Take advantage of the fact that budgeting is done at the campaign level. If you start grouping products or ad groups improperly, it can cause problems. One of these problems includes difficulties in allocating budgets as bigger Amazon ad spenders will often bid too high on some keywords, giving them an unfair advantage by causing those keywords to be out of everyone else's budget.
To meet your goals, you have to analyze and interpret Ad Spend at a granular level as much as possible. When you look at Ad Spend through an aggregate level, you will end up wasting time as it's not as useful as the granular level. Some products might be taking more percentage from the Ad Spend and may only end up skewing the results.
On the interface and reporting section, make use of portfolios to group campaigns for specific products and product families. You should then gauge the Ad Spend at an aggregate level. You also have the option of using portfolio budget caps, however, use them at ease and pay close attention as the Ad Spend will stop entirely once the budget limit has been reached.
While Amazon's budget suggestions are insightful, don't let them derail you from budgeting within your means and needs. Learn to listen and be guided with their suggestions, but make sure it matches your requirements.
We're excited about the new features Amazon is coming up with. Not only do they help Amazon sellers gain more insights into Amazon Advertising, but sellers also find better ways to budget their ad spend and they get to advertise products that actually convert! When an Amazon Seller knows how to allocate their budget properly, a successful Amazon business will always be built.
Looking for more updates and tips in the world of Amazon selling? Check out our blogs here.
Helpful Links
✋➝ Amazon Advertising Management (PPC, DSP)
🗨️➝ Follow us on LinkedIn
📧➝ Subscribe to our newsletter
🛍️➝ We Design Amazon Stores
🔎➝ Amazon Advertising Audits
▶️➝ Subscribe to our YouTube channel