If you're finding success selling on Amazon and are looking to expand to new marketplaces internationally, one overlooked marketplace we believe should be on top of your list is Amazon Mexico.
Amazon.com.mx (like Canada) is low-hanging fruit for anyone already selling in the United States and is easy to set up. With 12% of the population speaking English, enlisting the services of someone who can translate your listings is a worthy investment if that's all that stands in the way of extending your brand to be present in that region.
Why Amazon.com.mx?
The real reason to expand your brand in this region is because of one thing: Growth.
Amazon.mx (or Amazon Mexico) has been active since 2015 and competes directly in Mexico with other eCommerce platforms native to Central and South America such as Mercado Libre and Coppel, and other American companies like Walmart. 
Big competition means huge opportunities to gain market share in this region. In 2019 ecommerce sales in Mexico grew 35%. This growth in online shopping, coupled with the recent pandemic encouraging more shoppers to look for deals online, is another reason to kick your brand across the border.
Amazon's Competitive Edge
Not only that but in 2017 Amazon introduced their popular Prime Program which, just like those in other countries, includes free shipping and one or two-day shipping in select markets, Prime Video, and a host of other membership perks. This gives Amazon a competitive advantage over other online marketplaces serving Mexico.
Enhanced Shopper Experience
When it comes to fulfillment, Amazon now runs five fulfillment centers, two support buildings, and two sorting centers in Mexico. They are strategically placed near large population centers such as Guadalajara and Monterrey in addition to Mexico City where they first set up shop.
This investment ensures fast delivery times for Amazon shoppers in Mexico. As an Amazon FBA seller, having your inventory close to a growing market is another reason to make the move.
Our Experience with Amazon Mexico
We work with several client businesses that are selling in the Mexican marketplace. Some of these businesses are run by Mexican nationals who understand the culture at a deep level which aids in their success, but the great thing about Amazon is you don't need to have that cultural fluency to find traction and grow a business.
AMZ Pathfinder has several Amazon PPC specialists who are not only native speakers but have a track record in helping brands scale into this marketplace.
"Being able to focus on expansion, taking advantage of the resources of specific trends in the Mexico marketplace, and emphasizing that those who manage these marketplaces at our company are native speakers of the language gives a very important advantage to be able to notice areas of opportunity and in the handling of the data and cultural awareness."

– Sofia | AMZ Pathfinder PPC Specialist
Major reasons to sell on Amazon Mexico:
Mexico is the largest Spanish-speaking country in the world by population, with a

rapidly

increasing number of online shoppers as the country expands broadband internet infrastructure and cultural acceptance around shopping online grows.

Mexico is one of the fastest-growing eCommerce marketplaces globally and is already the second-largest in LatAm behind Brazil. There is also a large and growing population of Mexicans and other Hispanic peoples in the United States, so making your brand better known in the Spanish language demographic is a smart move.
Advertising competition, when compared to other Amazon marketplaces, is minimal. The average Cost-Per-Click (aCPC) in Mexico is

very

affordable. Our own data shows that aCPC over a 3-month recent time frame is only $0.07 USD or $1.40 MXN Pesos.
This is a fraction of the aCPC we see in even moderately competitive markets in the U.S. or EU which can be easily 20 times that amount and means that advertising is a profitable proposition even for high volume keywords. This makes testing even brand new campaign types a winning proposition.
"We have discovered that the cost of advertising in Mexico is very affordable.

As such, we can take advantage of traffic from high-volume keywords that would be considered irrelevant in a marketplace with higher aCPCs because at such low bids the math works out.

This allows business on the MX marketplace to take a 'billboard' approach to advertising"
Is it worth selling on Amazon Mexico? Here are some facts about the Amazon Mexico marketplace:
Traffic: 63.8 – 68 million monthly visitors
Amazon Prime is offered in the Mexico Marketplace
3 massive Amazon distribution centers are now in Mexico, the biggest one being 100,000 meters which is equivalent to 18 soccer fields!
In the Electronics & Media market in Mexico, amazon.com.mx is ranked #1 with > US $400m in 2019.
Amazon invested $100 million to gain market share south of the border.

The second largest e-commerce market in Latin America.

51 million Mexicans would be shopping on the internet in 2020, a figure that is set to grow by almost 45 percent by 2024.
(Sources Below)
Amazon Mexico is a market that allows you to merge both, English and Spanish customers due to language and geographical perks. We can use keywords in both languages and see which ones perform better.
Challenges selling on Amazon Mexico: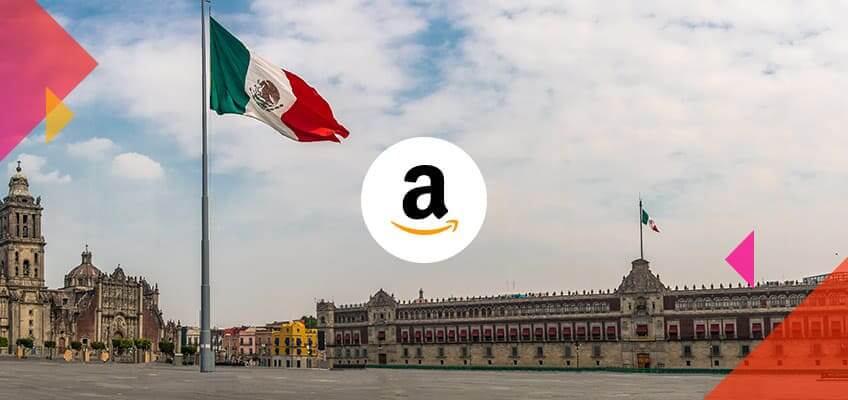 From the perspective of our Amazon Mexico PPC specialists, Sofia and native Spanish-speaker, Armando:
"Mistakes we see clients make when trying to scale to a Spanish-speaking marketplace is not giving enough priority to product listings to ensure retail readiness.

This is essential to prepare the listings which include the images, title, description with the correct translations, and the necessary adjustments of the store according to the marketplace.

Other than Retail Readiness, having 4 to 5-star reviews in Spanish is crucial.

We had an instance where a client had only English reviews and it was a deterrent for many Spanish speakers when considering their products."
Another challenge we see clients face is the constraints in handling the logistics for the shipment of the products. Whether it's FBA or FBM, finding an effective way to handle customer needs, product fulfillment, and overall shipping process is key to providing a great customer experience.
For brands who want to 'test the waters' scaling their brand to this region, we recommend the Amazon NARF program (Remote Fulfillment with FBA). Remote fulfillment means you can fulfill orders without moving your inventory into this market. 
More information on the NARF program (Requires Amazon login).
We only recommend this program to validate your brand in the Amazon Mexico marketplace.
Steps you can take to find success launching products and advertising in Amazon Mexico
Analyze the market, the trend, the impact of the products being promoted, the pricing and your competitors (prices, listings, offers) to get base knowledge. This way you can have a strategy with higher probability of success in the launch stage.
Also, allow a more flexible ACOS since we're relying on a very tight ACOS to fulfill your target KPIs. We recommend allowing extra budget to push spend on products during the 'consideration stage' for customers, staying competitive with your advertising efforts.
To learn more about the Amazon Mexico marketplace, check out our sources below:
Fulfillment center info: https://www.freightwaves.com/news/amazon-opens-new-fulfillment-centers-in-mexico
Ecommerce Mexico Growth Figures: https://pattern.com/blog/ecommerce-is-growing-in-mexico-win-on-amazon-mx-with-pattern
Amazon Mexico Traffic Figures: https://www.statista.com/statistics/434042/mexico-most-visited-retail-websites
Ecommerce Revenue Analytics: https://ecommercedb.com/en/store/amazon.com.mx
Helpful Links
✋➝ Amazon Advertising Management (PPC, DSP)
🗨️➝ Follow us on LinkedIn
📧➝ Subscribe to our newsletter
🛍️➝ We Design Amazon Stores
🔎➝ Amazon Advertising Audits
▶️➝ Subscribe to our YouTube channel